Anodising
Properties
Anodised aluminium profiles offer optimum protection against corrosion and are therefore particularly suitable for outdoor applications. Due to the extreme hardness of anodised coatings, anodised surfaces are unaffected by abrasion and other mechanical influences. Apart from the attractive metallic character, anodised profiles are also particularly durable thanks to the resistance of the anodised coating.
Products
Natural anodized aluminium profiles,
Aluminium profiles in different bronze tons,
Black anodized aluminium profiles,
Gold organic colored anodized profiles,
Glossy semi-mat and mat profiles with satinatig, 
polishing,scotch bright process, sandpaper emery,
steel wire brush and shot blasting,
Different coatig thicknesses up tu 25 microns.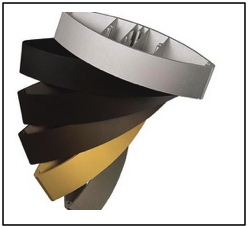 Powder coating
Properties
Powder-coated aluminium profiles have optimum properties with respect to 
corrosion protection, UV-resistance and resistance to weathering and are therefore 
predestined for outdoors applications.
Products
Coating  the profiles with all RAL colors and different gloss brightness,
Ensuring a homogenous coating thicknesses along the etire profile,
Profile coating  up to 8 meter lenght,
Ap to 400 mm width profile coating.